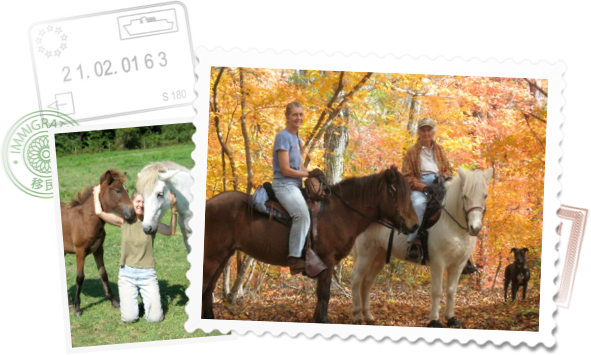 Black Creek Farm is the Elkin family farm, located along the Black Creek in Pelion, South Carolina.  One hundred sixty acres of pasture and woods that provide room for the horses, goats, cows, donkeys, chickens, peacocks, guineas, turkeys, geese and ducks to graze.  The farm provides outdoor kennels for dogs that board on a regular basis as well as for the rescue animals (mainly canine) that hope to be placed with a loving family.  While Black Creek Farm is all about the love and care of all animals, they are primarily the breeding grounds for Icelandic horses and award winning Mastiffs and Filas.

Meet Sarah, who has been working with and saving animals since she was a little girl.  She is a very caring and giving individual that's always helping someone or some critter back on their feet.  Her huge heart for the animal kingdom is the driving force behind all the livestock at Black Creek Farm.  Some may be there because of her rescue efforts, others are there because they play a role in protecting the livestock, and many are there because she just loves having them around. Sarah breeds and shows Mastiffs and Filas, but also owns Catahoulas, Miniature Pinchers, Great Pyrenees, a Kuvasz and a Pug.  In addition to her interests in dogs and horses, Sarah is also co-owner/operator of Sarah & Susie's Grooming, a grooming and feed store in Columbia, SC.  Susie, her partner is also her sister and lives on the farm, too.

Sarah has always been interested in nutrition and is very knowledgeable about healthy foods for our canine and feline friends.  Sarah & Susie's Grooming is an award winning groomer that also provides high quality foods, training treats and accessories for dogs and cats.  It also offers easy access for those in Columbia that want to board their dogs.  For a reasonable fee, boarders can be picked up or dropped off at their house.  All services are provided on the basis of helping others.  That includes the advice and training that Sarah often provides free of charge.  Sarah not only shows her large breed/rare breed dogs, she has been a trainer and taught many dog owners how to train their own pets.  Everything Sarah has studied, including her college degree in Equestrian Studies, involves the health and well being of animals.  She has rescued everything from squirrels, birds, and deer, to pet guinea pigs, cats and dogs.  Sarah's 'never-stop', 'Git-r-Done' work ethic inherited from her mom and dad is what it takes to keep all these efforts up and running.

Sarah has owned a horse since she was ten years old, spending most of her days riding around the countryside.  Having lived in the Columbia area most of her life, many of the places she rode her horse as a child are now businesses or neighborhood developments.  Black Creek Farm has numerous trails for the horses and provides a great training ground for that type of riding.  While Sarah has trained and ridden most any breed of horse, it was her desire to find a well-gaited, smooth-riding horse for her mother that led to her love of the Icelandic breed.  'Grandma' now has Brynja who she rides on a regular basis.

Icelandics are hardy, strong horses that stand about fourteen hands high.  This is one of the attractions to the older rider, making them easy to mount and handle in various types of riding settings.  They also have a wonderful temperament, gentle and steadfast.

The outdoor livestock dogs protect the farm animals from coyote and other predators.  They sleep on and off most of the day and go to work at night, warning predators not to encroach on their territory.  They bond with the newborn horses, goats, and chickens guarding them fiercely.  During the day they will awaken instantly and dash to the side of a crying baby goat that has gotten separated from their mother.  They will charge anything that tries to attack the chickens, ducks, guineas, turkeys or peacocks.  Great Pyrenees and Kuvaszes are extremely loyal and very protective of their territory or those they guard.  Dixie, our Spanish Mastiff/Great Pyrenees cross, and Athena, our Kuvasz have been wonderful additions to the farm.